Orange Room Lebanese Mile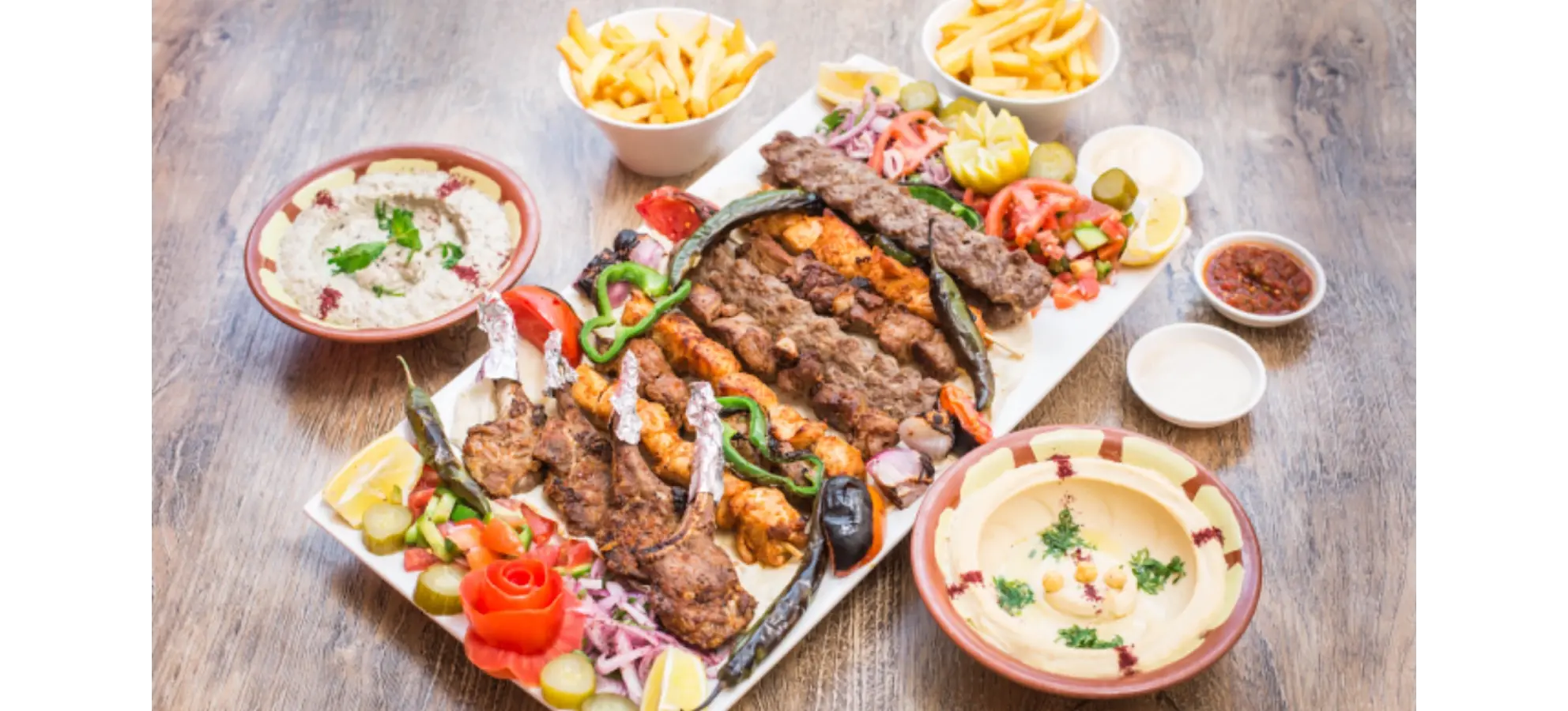 Orange Room Lebanese Mile
Menu Orange Room Lebanese Mile
The Lebanese cuisine is really one of the most popular out there. Combine that with the immaculate experience of Sandwiches, and things get really interesting. We, here at The Orange Room Mile End, have got for you the brilliant collection of the Lebanese cuisine with some of the best Sandwiches to have ever existed. Let's jump directly over to our menu. Our Cold Meze items are an all-time favorite among potential eaters. You can have them in the likes of Hummus Beiruti, Foul Moukala, Warak Inab, Tabbouleh, Moussakaat B'Zeit, Loubieh B'Zeit etc. These can be followed by some of our signature Main Course dishes like Chicken Shawarma, Lahem Meshwi, Kafta Halabieh, Kafta Khashkhash, Stuffed Lamb, Bamieh Bil Lahme, Fassoulieh Bil Lahme etc. You can also try some of our Hot Meze items like Hummus Shawarma, Hummus Kawarma, Hummus Snouber, Foul Moudamas, Makanek Sujuk, Cheese Samboussek etc. If you prefer to go with the veg only, you can try out our spectacular Vegetarian items like Loubieh B`zeit with Rice and Mousakaat B`zeit with Rice. Next, you should have a serious look at our Sandwiches like Chicken Shawarma Sandwich, Lahem Meshwi Sandwich, Kofta Sandwich, Makanek Sandwich, Hummus Shawarma Sandwich, Falafel Sandwich, Moutabal Sandwich etc. If you are a short-eater, you can also have some of our Wraps like Chicken Shawarma Wrap, Shish Taouk Wrap, LahemMeshwi Wrap, Kofta Wrap, Makanek Wrap, Hummus Shawarma Wrap etc. Our Drinks like Diet Pepsi, 7-up, Fresh Lemonade, Tamer Hindi, Lassi would add the perfect end to your day. Reach us today.
About Orange Room Lebanese Mile
We are one of the best choices in the city if you are in Lebanese cuisine. That, also coupled with the fact that we have a whole lot of incredible sandwiches, has made us really popular. We use the best range of ingredients in our kitchen, to make your dishes really stand out. Also, our dedicated team has a long list of secret spice proportions which also ensure top-notch quality. If you would want to have the entire experience right at your own house, you can download our app for free from the Google Play Store or the Apple App Store. From the app, you can order any item that you want from our huge menu. We would try our level best in order to satisfy you with a laudable experience of the Lebanese cuisine under a single roof. Start ordering today and don't miss the brilliant opportunity we have got up our sleeves for you.
Restaurant location Orange Room Lebanese Mile
Our spectacular location also goes a long way in making us really accessible from any part of the city. We are to be exactly found at 63 Burdett Road, London E3 4TN. Smooth transport and a whole host of options in conveyance leave our customers with zero reasons to complain. Our home delivery services have also improved owing to the brilliant location. Yet, if you find it cumbersome to locate us, you can readily open our app for instant GPS support. Visit us today if you expect a lot from your dinner. We would try to leave you satisfied for sure.